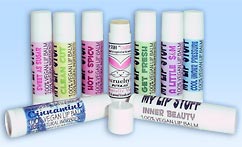 Nothing better than soft, smooth, kissable lips right?? Okay, maybe a few things, but I love soft lips and I love lip balm!! I came across a site named www.MyLIPSTUFF.com. They have Over 400 Flavors of Natural Lip Balm to Feed Your Addiction! First let me say the balm is very smooth, natural, and feels great on the lips. She has so many great flavors and scents that hard to narrow down a list. I have eight of these. I purchased the 6 pk bundle and I had to have Red Velvet Cake Balm so I ordered it extra. You get a free lip balm if you spend $15.00.

I love her mission statement. (The business major in had to pay attention to it! lol) I will list it below. I have:
**Mint Chocolate Chip Ice Cream - not one of my favs. I expected something else. It's just okay.
**Mixed Mystery - I like this! This was my free balm with purchase.
**Lavender Pound Cake - I didnt think it would be that much Lavender to this one. If you dont care for Lavender, you might want to skip this one It's Okay.
**Dulce De Leche - different but nice
**Vanilla Buttercream - It's cool.
**Strawberry & Chocolate - Again, it's cool.
**Bananas Foster - I like this one. (I like eating Bananas Foster also.)
**Red Velvet Cake - I love love love Red Velvet cake so this is my favorite out of hem all.

Check it out. www.mylipstuff.com

Her mission statement:
My Lip Stuff's ultimate mission is to end the suffering of people with chapped lips all across the land. In the process, we strive to end animal testing and save the environment with chemical-free natural products!

Is this a tall order? Absolutely. But we are dedicated- and are willing to start small. If we all do our part our combined efforts will make a big impact on the future of the planet, & just maybe we'll find a cure for something-- even if it is just chapped lips!

My Lip Stuff's products are NEVER tested on animals & contain natural (from the earth) ingredients that are skin loving. Our products do NOT contain any harsh ingredients- and NEVER contain petroleum or mineral oil! We also do what we can by using recycled (and recyclable) materials whenever possible, and even using "green power" (power from renewable resources such as wind, water, or landfill gases-instead of oil). We also Drive a Hybrid, and use only fluorescent lighting (no incandescent bulbs here!).
In the end, We strive to create a natural product made from only the highest quality ingredients, with the least amount of impact on the environment and its inhabitants, for the lowest possible price.